T300 for -$50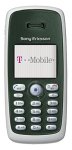 Amazon.com is selling the Sony Ericsson T300 with a T-Mobile service contract for just a penny... Not bad, especially when there is a $50 rebate on any service plans over $34.95 a month. The deal is good until the end of March, but will probably be extended like many of Amazon's rebates.
The T300 is a slick phone. It's got a color screen, polyphonic ring tones, a joystick and all the stuff you'd expect a phone of that class to have. It also comes with a free camera attachment! Not as cool as having it onboard, but the space savings is nice (this is a very small phone).
Only one thing is missing from this phone--Bluetooth. If you aren't interested in using Bluetooth seriously consider this phone.
Remember, purchasing through our links keeps MobileTracker alive.
---