MobileTracker's T616 review
MobileTracker friend and
Unwired
member
Sean Bonner
has come aboard to write a review of his new baby—the Sony Ericsson's T616. As you might know the T616 is the US version of the popular T610. Feel free to discuss the review/phone over in the
boards
.
If you are reading this via the RSS feed, you'll have to click through as the review is located in the extended portion of the post.
Sony Ericsson T616

Mode

GSM 800 / GSM 1800 / GSM 1900

Size

4.02" x 1.73" x 0.75"

Weight

3.35 oz

Antenna

Internal

Battery/Life

LiPolymer - Talk 5 hours - Standby 350 hours

Screen

LCD - 65,536 colors - 128x160px

Ring tones

Polyphonic - 32 Chords

Web

WAP 2.0 (GPRS 4+1)

Syncing

Via IR, Bluetooth or cable

Apps

Java (and Mophun)

Misc

Camera, MusicDJ polyphonic ringtone creator, T9 predictive text
Intro
I've had this phone in my possession for exactly a week now and I couldn't be happier. Wait... hold on, I'm getting ahead of myself. I gave up lugging around a cell phone and a PDA the day Handspring released the first Treo 180 in early 2002 and I swore I would never go back to two seperate devices. I first heard about the Sony Ericsson T610/616 a few months ago and that was the first time I actually considered going back. The Treo was now out-of-date and the T610/616 sounded ideal, everything you could want in a phone and more. I started checking with carriers and waiting for release dates.
Bad News
Then the bubble was burst when Mobile Burn posted their horrible review of the T610 stating fatal flaws in reception and the display. I'm never out in the sun so I can deal with a screen that isn't perfectly clear in direct sunlight, but poor reception? What's the point of having a phone if you can't use it? I decided I'd have to wait for the Treo 600 because the word on the web was the T610 and the T616 were the exact same phone and that the T616 was just branded differently to make customers in the US feel special. Fortunately, shortly after this review I heard otherwise. The T610 was made to be used in Europe, so it only makes sense that the reception would be optimized for use there. That should be no surprize then that the reception was a little goofy on the T610 when used in the States. A Sony Ericsson rep explained this to me, as well as pointing out that the T616 was designed to be used in the US and the reception here would be noticably better than that on the T610.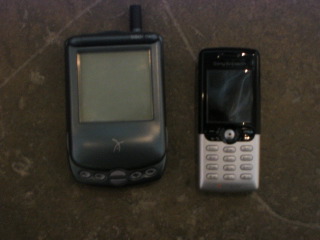 The Cingular sales rep reaffirmed what the Sony Ericsson rep had told me about the improved reception over that of the T610. She even let me power it up and go outside to see how it looked in the sun. I did, and it looked fine to me. I've been using Cingular for almost 2 years now with no complaints so I took the plunge and bought it.
First Thoughts
The second I got home I ripped the box apart to find the manual and see all the cool features laid out for me, however the manual I got was in Spanish. Luckily the OS is very intuitive and just playing around with it for a few moments gave me a great window into the world of the T616. I was also able to download an English manual from Sony Ericsson's website but a fifty page PDF is never going to be as handy as a little pocket sized book. After messing with it for a few hours I had it all figured out. I only say a few hours because there are so many things to go through, not because it was hard to figure out.
The features
Since other sites have given painfully detailed breakdowns of the menues and functions I'm going to skip repeating that and get right to the good stuff: the features I love and those I don't love so much. I can't say things I hate, or even the those I don't like because I really haven't found anything that fits into that category yet. I will saw that I'm judging this in a lot of cases against the Handspring Treo I was previously using, although I fully understand this is a totally different animal than the Treo with an entirely different purpose. First of all, let me clear up the reception rumors. With my Treo I had GPRS and I had a voice connection about 90% of the time in the greater Los Angeles area, and a GPRS conection about 98% of the time. With the T616 I say that I have a voice connection 98% of the time and GPRS 95%. In most places where I had spotty reception with the Treo I now have perfect reception with the T616. The only place this isn't true is inside my house, I have a better voice connection, but the GPRS connection comes and goes; just the opposite from the Treo.
Screen
As far as the screen, so far it's bright and amazingly clear every place I've needed to use it. Short of turning the phone off the screen never fully goes dark which I'm not sure I understand. When I stop using the phone for a few seconds the screen saver pops up, a few seconds later that changes to a clock, and a second or so after that the clock dims to almost blackness. In this final stage I can't read it no matter what, broad daylight or a pitch black theater, it's just too dim. But it's in a screen saver mode so that should be expected. One touch to any of the buttons on the side (easily done while pulling it out of a pocket) and it's super bright again. Certainly with direct sunlight, and not just oustide light, it's a little harder to see, but so would your television if it was in the same light or your laptop screen. It's a digital screen, that's the way it works and I have yet to see a screen on anything look brilliant in direct sunlight. This, however, is far from unusable. In fact it looks fine and if you are having any problems a slight cover with your hand provides more than enough shade for the screen to shine.
Camera
The camera. I love the camera. It's low res, but that's perfect for the web. I've got a Cannon Powershot that has the high res and all the features I want from a camera. Since there's no flash getting a picture in low light is rough, really rough, but there is a "nightime" setting you can switch to which improves that a little bit. All in all it's not a megapixel camera, so putting it up against other non-megapixel cameras and it will do fine, against 2 or 3 megapixels and it's not going to do so well. Personally, I've never had a phone with a camera built in before and I'm having a blast with this feature, regardless of the resolution. If you are interesed in the quality of the shots, here's a constantly updated moblog I've been building exclusively with the T616. I'm taking pics through out the day and uploading them instantly to this site via the phone. It's great.
Design
Since phones these days have more or less the same features, I think it's important to talk about the design of the phone itself as a major feature. One that I think is one of this phones biggest selling points. First and formost it just looks nice. Clean lines, slick profile, it's a very classy phone. It's not until you actually use it that you see the function built into the design. For example, the sides have a slight indent which makes it almost impossible to slip out of your hand. But, that indent also lets the phone stand on it's own for taking perfectly still pictures using the delay. Speaking of taking pictures, there's a very small mirror on the back, just small enough so when you hold the phone at arms length to take a pic of yourself you can check to make sure you are in frame. The buttons are so smooth and press very easily, and the suble backlight makes sure you press what you want to under any lighting conditions. Finally, the five-way joystick as the main navigational input is inspired. In fact, every button on the phone is located exactly where you need it most.
User Interface
The Sony Ericsson interface is unstoppably simple to figure out and with customizable shortcuts, it gets easier and faster to use every day. Take advantage of the built-in Bluetooth with a cordless headset and suddenly there's a whole gang of voice cammands at your disposal. And if you use a Macintosh get ready for a million other options including getting online using the phone's GPRS via Bluetooth or using the phone to control iTunes from across the room. T9 for text input, Java for apps, and throw polyphonic ringtones into the mix and you have what has to be the best phone I've ever used.
Gripes / Wrapup
If I absolutely had to find something to complain about, the WAP browser would be top of my list, but since you can download a Java based HTML browser, that's easily nullified. My only other gripe would be how the e-mail program displays messages by subject only. I'd prefer by sender, but honestly that's not such a huge complaint. I'm sure next week something even better will hit the shelves (as that seems to be the pace of things these days) but for now, I can't recommend the T616 any more. I love everything about it.
If you want to talk to Sean about his new purchase, or soundoff in any way, head over to the Boards. He'll be watching the thread. You can snag a T616 at Cingular stores nationwide (as long as they have GSM in your area), or online from Lets Talk. LetsTalk sells the phone for $149.99 with free shipping, Cingular sells the phone for a bit more, but you can have it today.
---