Motorola launches first Linux smartphone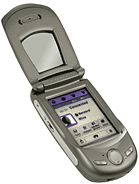 Motorola launched its first Linux-based smartphone yesterday. While the desktop Linux world is in turmoil over a lawsuit from the US based SCO, there has been big progress in embedded Linux systems. The A760 sports a personal information management suite, music player, video player, IM and more. It uses Java on top of Linux to power its applications. To communicate with the rest of your toys it includes Bluetooth, IR, and a USB transfer cable. It's also got a camera, thought its resolution is unknown at this time. Design wise it actually looks quite ordinary--almost like a Treo. The only downside to this handset looks to be that it's made for the Far Eastern market. The rest of the world is going to have to work overtime to be able to even get a look at it.
Update:
Pacifico let us know that the version of Linux this sucker is running is MontaVista Linux Consumer Electronics Edition (CEE). It's the first commercial Linux OS specifically designed for consumer electronics devices.
---