NEC intros its first US camera phone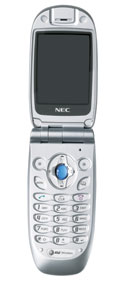 NEC's new 525 HDM is its first camera phone for the US market. It's a quad-band GSM/GPRS handset with an impressive feature set. According to the company, it's already shipping through AT&T Wireless. * 162x216 pixel 65K color main screen with a 4,096 color secondary screen for caller ID functions. * 2X digital zoom embedded camera (resolution unknown) * 40-note polyphonic ring tones * XHTML browser * 2 processors It's interesting to note the use of 2 processors (something that's happening more these days). According to NEC: bq.
"The handset features advanced technologies such as DoJA, a version of Java, created specifically for the mobile environment by NTT DoCoMo and Sun Microsystems. By employing DoJA and utilizing a second, dedicated applications processor, the 525 HDM is able to offer a lightning fast mobile gaming experience that does not impact incoming calls.
"
---