Motorola V600 review
May 10 2004 - 12:50 AM ET | Motorola, Review
You can buy the Motorola V600 for just -$25 with T-Mobile service from WireFly.
By Jon Gales - The Motorola V600 was a long time coming to the US, but that hasn't hurt its popularity. It's one of the most hyped phones of the year, and we got a chance to play with it for a few weeks. You can now order the phone from AT&T Wireless or Cingular. Rumors have it that the Motorola V600 will come to T-Mobile USA, but we aren't holding our breath. To start things off, let's look at some specs:
Motorola V600

Mode

GSM 800 / 900 / 1800 / 1900

Size

3.46" x 1.85" x 0.91"

Weight

4.40 oz (125g)

Antenna

Stub

Battery/Life

LiIon - Talk 6.5 hours - Standby 175 hours

Screen

TFT LCD

- 65K colors - 176x220 pixels

Ring tones

Polyphonic - 24 Chords / MP3

Web

WAP 2.0,

GPRS 4+2

Syncing

Cable, Bluetooth

Apps

Java J2ME

Camera

VGA resolution (640x480), 4x digital zoom

Memory

5MB

Misc

iTAP predictive text, POP / IMAP email, sub-display, speakerphone
Now let's go over some features: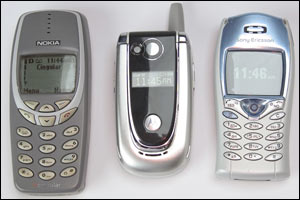 Reception
Reception should be the most important part of any phone (afterall it is a phone). The audio was clear both on the handset and coming from the handset. It's a quad-band GSM phone, which makes this even more impressive. I used T-Mobile in Tampa, Florida. I did not test a headset with it, but the speakerphone also works well. However, the speaker for the speakerphone is on the back of the phone and the mic is on the front. This means for best results you have to tip is sideways (a little too much like the N-Gage for me). I'm personally not a big speakerphone user so it wasn't a big deal for me, though it may be for you.
Buttons
The buttons are in a standard design, which makes it easy. A knock on the V300 was the weird button design. The buttons on the V600 are quite large, and cover the whole surface area of the lower face. This could cause some errors, but since the buttons are so large, it doesn't happen much. The 4-way keypad is nice, but I like a mini joystick more (like on the Sony T6XX series). There's nothing really wrong with a 4-way key, but it makes you move your thumb more than a joystick. But since we're talking a flip phone, I understand the choice.
Text
The predictive text engine, iTap, worked pretty well. Unlike the V300, the buttons on the V600 are more uniformly shaped, so within a few minutes I was up to speed. I typed a little faster than with T9, but it's no QWERTY. The killer feature of iTap is word completion. Unlike T9 which makes you type out at least as many characters as the word is, iTap will try and guess what word you are typing. Maybe you're only a few letters in and you see that it guessed right, press one button and the whole word is completed for you. That really helps speed up typing.
Screen
The Motorola V600 has a very nice screen. The opening splash is a colorful "hellomoto" promo that really shows off the quality of the display. Since it is a TFT, it also performs well outside, though the colors will be muted. The exterior display is also very bright, showing different information depending on what has happened: * If no missed calls have been logged, it shows the signal strength, time, battery, and more. * If a missed call has been logged, it reads "X missed calls" * If someone is calling, their name or number shows up. It's also a nice size, 176x220 pixels. There is no comparison between this and the screen on my T68i.
Looks
I had a range of reaction to the V600 look. Most people loved the metal faceplate because it gives the phone a sturdy/professional look. However, I got a lot of, "wow it's pretty big/heavy" comments from the same people. Personally, I thought it was a great size. When it unfolds, the speaker and microphone are in great locations. It is on the heavy side, at about 4 and half ounces, but it's very solid.
Games
Two games were included, but both were demos. If you budget $299 to snag this phone, budget $5 more for a game. Since they were demos, it's not worth spending time explaining. I had fun until I found out they were demos.
Camera
The camera is 640x480 and includes a 4x digital zoom. It takes pretty good pictures, but nothing spectacular. The results varied, but most were a little too blurry. There is a small mirror next to the camera for self portraits. Here is a
sample
. You cannot capture videos with the camera. However, you can store a lot of pictures on the V600's 5MB of storage. Most of my images came to around 20K.
Bluetooth
This is where the V600 joins an elite crew of camera phones--Bluetooth. My PowerBook has Bluetooth built in, and almost the first thing I did was connect the two. Here's a picture of what you get when browsing the phone.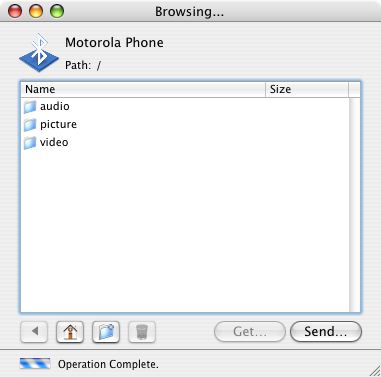 It's as simple as a few clicks to get ringtones, images and videos onto and off of the handset. After browsing around for a minute, I trimmed some MP3's down to a few seconds (the Curb Your Enthusiasm theme for one) and dropped them into the audio folder. From there you just browse sounds and set the newly listed file as a ring. No more cheesy polyphonic rings for me, I was jamming to high quality MP3's. The images I linked in the camera section were pulled off the camera via Bluetooth. They are about 20K apiece, which is only a few seconds to download (Bluetooth isn't the fastest wireless standard). It was a little too menu intensive to turn Bluetooth on and off, but since it's not something you do 5 times a day, it wasn't a big deal. I did not try a wireless headset with the V600.
Ed. note: A reader informed me that his V600 switches Bluetooth on and off itself. I tested a prototype model, and things might have changed. In any event, it was not difficult.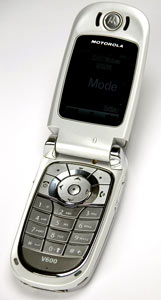 Applications
Several applications are included on the Motorola V600. Here's a brief look at some of them: * Calculator - A pretty basic calculator. Besides the 4 basic functions, includes currency conversion (you have to put in your own exchange rate), percentages and simple memory functions. If it could have looked online for exchange rates, this would have been a great calculator. * Datebook - A standard calendar. Handy if you do not have a PDA. You can set up alerts, view future and past months, and more. * Shortcuts - Because menu's can be complex, shortcuts lets you set up "bookmarks". However, since shortcuts itself is deep in a menu, it's really not that useful. * Voice Records - By holding the voice dial key on the right side of the handset, you can record yourself. I liked the quick access to this function. By going to the application, you can listen to past recordings. * Alarm clock - Multiple alarms, different tones and volumes.
Verdict
Overall I enjoyed the Motorola V600. It deserved the hype, and if you need a phone with Bluetooth, the V600 is probably your best bet. The big flaw as I see it was the shipping delay--it should have been here in 2003.
You can buy the Motorola V600 for just -$25 with T-Mobile service from WireFly.
---