Vodafone K.K.'s new summer lineup
Vodafone K.K. has announced 5 new phones that should arrive this summer. The V602SH by Sharp, V601T by Toshiba, V401D by Mitsubishi Electric, V401SA by Sanyo and V402SH by Sharp should all be here in late June to early July.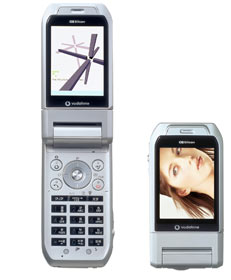 Sharp V602SH
- The first camera phone to include an
optical
zoom. Other features include a 2.02 megapixel camera, SD memory slot and a 'swivel style' design. This phone is shown at right (in both the open and closed but swiveled positions).
Toshiba V601T
- QVGA (320 x 240 pixel) 15 frame per second video capture. 320 x 240 pixel TFT screen at 260K colors. Also sports 3D applications and a SD memory slot.
Mitsubishi V401D
- 2.00 megapixel digital camera with up to 60 second of video capture. A control pad, "operated by finger tracing" that sounds familiar to the touch pad found on the iPod Mini. Main display is 320 x 240 pixel TFT screen at 260K colors. Sub-dispaly is 160x120 at 65K colors.
---