NTT DoCoMo announces new FOMA 900i series phones
Jun 01 2004 - 02:24 AM ET | DoCoMo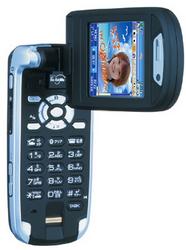 NTT DoCoMo has announced three new FOMA 900i series mobile phones. The company also noted that it has surpassed 4 million FOMA subscribers. The new phones are:
F900iT
The F900iT comes with a wireless Bluetooth headset for hands-free conversations. When folded with the camera lens and TFT main screen rotated to face outward, the phone can be used as a compact digital camera and Web viewer. Pictures drawn with a stylus on the touch-screen can also be e-mailed as attachments.
This phone is shown in the photo at right.
N900iS
The N900iS comes equipped with 20 "deco-mail" templates for decorative e-mails. On-screen dictionaries (Japanese, English-Japanese and Japanese-English) can be accessed with the Multi-Task button while surfing the internet or writing e-mail. The phone has a pre-recorded voice to read out e-mails.
P900iV
The P900iV folds for use like a video camera, with the lower half serving as a handy grip and the main screen rotating up or down for convenient viewfinding. The model also features effective 2-mega pixel resolution. Videos and still images stored in the phone can be viewed on a TV screen using an optional cable, and movie resolution has been boosted to 320 dots by 240 dots--more than three times the figure of previous handsets (176 by 144).
---