Motorola intros 4 Bluetooth products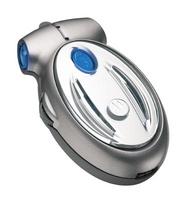 Motorola yesterday announced four new Bluetooth accessories, including three hands free headsets. *Motorola Wireless Headset HS850 with Bluetooth* - Upgraded from the award winning HS810 headset. The HS850 features improved battery life, improved loudness and audio quality, and comes equipped with improved echo cancellation technology. Available: Q4 2004.
Motorola Wireless Headset HS805
- A slim and lightweight surfboard style headset. Features enhanced noise cancellation technology and a multifunction button for in-call control. Powered by AAA batteries for up to 22 hours of talk time. Available: Q4 2004.
Motorola Wireless Pendant Headset HS830
- The Motorola HS830 is a new stylish concept necklace headset. Expect five hours of talk time. Also available is the Wireless Helmet Headset HS830, bringing all the functions of Bluetooth to motorcycle aficionados who are constantly on the move. Available: Q1 2005.
Motorola Wireless Speaker HF800
- This wireless speaker retains all of its classic style, but the refreshed HF800 will pack more talk time and better audio capabilities into an already popular package. Available: Q4 2004.
---