Nokia 7610 Cingular soft launch in progress
Nov 23 2004 - 07:16 PM ET | Cingular
Update:
The Nokia 7610 is now available in most locations. Amazon.com is
selling the phone for just $299
after rebate.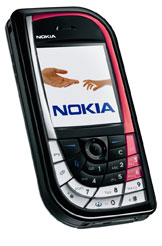 Cingular has started a soft launch of the
Nokia 7610
. Despite being
shipped
in most of the world back in June (and announced back in March!), the Nokia 7610 is new to the US. Features of the Nokia 7610 include: * Bluetooth * Megapixel camera (1152 X 864) with 4x digital zoom * MP3 player * 8MB user memory and reduced size 64MB MMC Card * Series 60 device Currently only a limited number of zip codes show the Nokia 7610 for sale on the
Cingular.com webstore
. Expect to pay $449.99 with a 2-year contract.
Ed. note: if your zip code shows the Nokia 7610 for sale, let us know. We're looking for the pattern.
---