Panasonic X800 specs
Feb 02 2005 - 07:45 PM ET | Panasonic

The FCC today posted approval documents for the Panasonic X800 (FCC ID NWJ21C001A). The X800 is a Series 60 device in a sleek flip-phone design. Features include: * Bluetooth * miniSD card slot * Main display: 176 x 208 pixels TFT LCD; 65k colors * External display: 64 x 96 pixels CSTN LCD; 56k colors * Quickoffice - Read and edit Microsoft Word, Excel, and PowerPoint documents * VGA camera with flash, video recording No information on when this phone will be sold was made available.
Click on thumbnail at right to zoom. Two more photos of the Panasonic X800 appear below.
Feature wise the Panasonic X800 is similar to the Panasonic X700, though the form factor is much slimmer.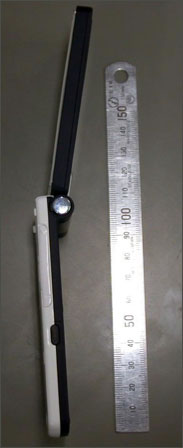 ---