Sanyo MM-7400 Review
The Sanyo MM-7400 is a mid-range camera phone from Sprint PCS. Our editors played with one a little while ago and put it through its paces. It could have a better camera, and we've never liked the Sanyo operating system, but for the money it's a decent handset. Read on for our full review.
By the numbers
| | |
| --- | --- |
| Size | 3.64" x 1.97" x 1.13" |
| Weight | 4.06 oz |
| Display | 176 x 220 pixels, 16 bit color |
| Memory | 2.8MB |
| Ringtones | AAC / MIDI |
| Data | 1xRTT |
| Camera | VGA with LED flash and video recording |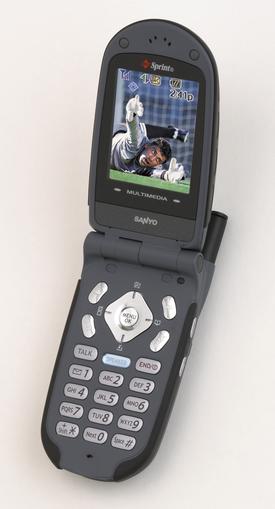 Design
The Sanyo MM-7400 is a clamshell handset with interchangeable faceplates. Two plates come with the phone, we stuck with a stylish red for most of the time (no one else seems to have a red phone, it stuck out nicely). It's a bit thick at 1.13", but still fits nicely in most pockets. The outsized is ruggedized with rubber (more on this later in the review).
Camera
A VGA camera is onboard the 7400. It has a LED flash and can also record short videos. The flash was like most LED flashes--it worked well only in very short range. Photos were lower quality than some VGA camera phones we've tested. See the examples at the end of the review to get a feel for the quality. Videos had a nice frame rate, there's also an example of this at the end of the review. Photos and videos are easily uploaded to Sprint's photo sharing service, the speed was pretty quick.
Calling features
Voice quality was great, but that can vary on your location. We didn't experience any dropped calls, but Sprint service is pretty strong in the area tested. Voice dialing is a great selling point for the phone, it doesn't need trained. It works well and not having to go through the training process saves on the annoyance factor. The MM-7400's speakerphone worked well, and gave us no problems. The volume was powerful, and sound clear. The MM-7400 has Sprint PCS ReadyLink built-in, which is simply Sprint's version of push-to-talk. It works well (there's a dedicated PTT button on the side), but like most push-to-talk services, it drains the battery really fast. For PTT fans, ReadyLink will be a welcome addition. For the rest of us, it's simply a possibility for the future. Because of the battery drain, ReadyLink was left turned off most of the time. To Sanyo's credit, it's easy to turn on and off ReadyLink.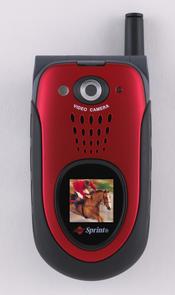 Screen
About average for a 65,000 color LCD. Not amazing like 260,000 color models, but very good. At 176 x 220, it's plenty big. The external screen also sports 65,000 colors (not too common) and works well for framing self-portraits. It's hard to tell how much battery drain is added by putting on a full color external display, but since it's usually in clock mode it is probably not too large. More than using an OLED, but not nearly as much as ReadyLink.
Other
The MM-7400 works with Sprint PCS Vision's video streaming service. Because Sprint doesn't yet have an EV-DO network, the video doesn't look as good as Verizon VCAST, but it's decent. If you're a news junkie, this is a big plus. The outside of the phone features a strip of rubber that makes the phone feel very solid (if dropped the rubber should absorb the shock and your phone won't get scratched). It also makes the phone very easy to grip. The only downside is that it's harder to get into and out of pant pockets. Rubber does not play well with cotton and the two create some friction.
---
Pros
Big screen and good voice quality. Sprint PCS ReadyLink is nice if you're into push-to-talk.
Cons
The MM-7400 does not have Bluetooth, which means you're stuck paying data charges to Sprint if you want your pictures/videos off the phone. The big screen means not so big battery life.
Overall
If you already want Sprint as your carrier, the Sanyo MM-7400 is a good choice. If you don't know what carrier you want, check out some more models (especially if Bluetooth is important to you). If you want to spend a bit more, check out the
Sanyo MM-5600
which should be out next month.
Purchase
You can purchase the Sanyo-MM 7400 with Sprint PCS service
through Wirefly for $169.99
.
Examples
(click on images to zoom)


Video
(needs QuickTime)
---