Sprint announces PPC-6700
Sep 16 2005 - 11:19 AM ET | Sprint Nextel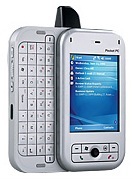 Sprint Nextel has updated its business website to reflect the PPC-6700, a very high-end handset that we've been calling the HTC Apache. Priced at $479.99 with service, the PPC-6700 is loaded:
Windows Mobile 5.0
416MHz Intel

CPU

EV-DO, WiFi and Bluetooth

QWERTY

keyboard
miniSD card slot
1.3 megapixel camera
Mobile version of GoToMyPC to access your desktop computer
Sprint is currently selling the PPC-6700 only in business channels. To purchase you must first call the telesales unit, 1-888-253-1315.
---