Nokia 3250 images leaked
Sep 25 2005 - 02:38 PM ET | Nokia, Rumor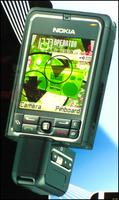 Promo images of the Nokia 3250 have leaked, purportedly from a promotional event in Berlin. The tipster notes that Nokia should officially announce the phone in the next week. The 3250 features a unique form factor that combines elements of the N90 and N91. The bottom area twists 360º to switch between a keypad, music control keys and a camera.
Confirmed features include:
Series 60, Symbian 9
Memory card slot (either an SD varient or RS-MMC)
2 megapixel camera
Dedicated music keys
Look for the Nokia 3250 to hit store shelves in the first quarter of next year.
---