Sony Ericsson W800i review
By Jon Gales -- The W800i is Sony Ericsson's first in a series of Walkman branded handsets. While the Walkman brand is still ingrained in my mind as a portable tape player, Sony has kept upgrading the devices which are now MP3 players. Music phones are all the rage this year, so we were excited to get a look at the W800i. Next week we'll bring you a review of the Motorola ROKR, so consider this piece the first part of a music phone show down.
Read on for a full review.
Features
Radio

GSM

900/1800/1900
Weight
3.49 oz
Size
3.94" × 1.81" × 0.79"
Memory
38MB built-in plus included 512 Memory Stick Duo card
Screen
176 × 220 pixel 262K color screen
Data

GPRS

class 10
Camera
2 megapixel with autofocus and flash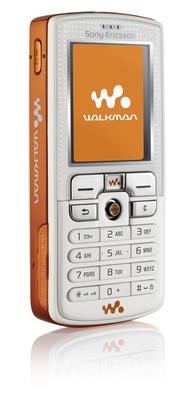 Construction/Design
The W800i fits the mold of other Sony Ericsson products--design is a big focus. Spec wise the phone is based off the K750i, just tuned with some different software and slightly different design (specifically the keys and the back face, size and shape of the handsets are nearly identical). I had several friends ask if the W800i was available through Cingular, because the orange color of the handset makes it look like a heavily Cingular branded device. It's not, and since the phone lacks GSM 850 the W800i will never make it to Cingular.
The W800i's keypad was a little frustrating, the keys had only a very small click sensation so it was hard to tell when they have been pressed. I wish Sony Ericsson would have kept the keypad from the K750i as it does not share the problem.
On the back of the handset there is a small sliding switch that opens and closes the lens cover. I tend to like this method of lens protection more than the
K750
i since it's smaller and doesn't open as much on accident. Like most of Sony Ericsson's recent handsets the
W800
i is a "dual face" handset which means it looks a lot like a camera when you're taking pictures.
Music
Since it's Walkman branded, music is obviously a big part of the W800i. There is a play/pause button on the left top side of the phone that will start and stop the music player without the need of first going into the menus (in contrast to the ROKR which features no control buttons). Out of the box, Sony Ericsson ships the W800i with a 512MB Memory Stick Duo card, but you can put in a bigger card if you choose--personally I own a 1GB module for a Sony digital camera that I own. There is no cap on the amount of songs you can store other than available space.
For Windows users there is an included application that lets you choose songs from your hard drive and then transfer them to the handset. It works well and will even downsample songs if you want to be able to fit more tunes (most of my collection is at 192kbps, it can downsample to the more standard 128kbps for example.) Of course this feature takes a while, but depending on your usage pattern it's worth the time. According to Sony Ericsson, transfer should be at USB 2.0 speeds, but I was seeing lower speeds, more in the range of a megabit or two per second.
Mac users won't be able to use the fancy transfer application, but that's OK because the W800i shows up on the desktop like any removable storage drive. You can just drag songs over and it will work just fine.
On the listening side, Sony Ericsson does something that I just love--there is an included accessory that connects to the bottom of the phone and ends in a microphone/headphone jack. Plug in the included headphones (or your own, which in my case sound better) and you can rock out until a call comes in. At that point you may take the call and the headphones will become part of a handsfree unit. That's pretty cool with the included headphones, but awesome when you consider that those high-end earphones you love can now become your hands free. In real use this system is a lot nicer than a regular headphone jack and I really want one of the cables for my K750i (they are not sold separately).
Sound quality was superb. The included speaker is loud enough for music, but in most settings you'll want to use headphones (just like with an iPod).
The music playing application itself is intuitive and allows quick selection of playlists, artists, albums or individual songs. There are photos of the app available at the end of the review.
Reception, battery life
Some previous Sony Ericsson models (namely the T6XX series) got knocked for poor RF performance, but those problems have been fixed in later models. This is no different in the W800i. However, US users should remember that if you want this phone make sure you are on T-Mobile. Cingular uses both GSM 850 (which the W800i doesn't have) and 1900 while T-Mobile is limited to just GSM 1900. My testing was limited to T-Mobile and the phone performed admirably.
For battery life, my talk time test resulted in 450 minutes (7.5 hours) which is solid for a small handset like the W800i. In regular use you'll need to charge the W800i about every three to four days.
OS,

Navigation

Users of past Sony Ericsson phones will feel at home in the W800i's software. The default theme is orange to fit the rest of the phone, but you can change to another built-in theme, download a new one or even create one yourself. I kept with the default orange. Speed wise the newer Sony Ericsson handsets have a leg up on their predecessors so you shouldn't experience much a delay moving through menus. Loading the phonebook for the first time after starting the phone can take a few seconds to load, but after that it's speedy.

New to the W800i is a menu on startup that asks if you'd like to enter phone mode or airplane mode. Airplane mode makes all the radio's inactive so that you can use the phone on an airplane (or anyplace that restricts mobile phones, such as hospitals). Also, if you just want to listen to music and want some more battery life, using airplane mode can extend your play time a bit.
Camera
The W800i's camera module is the same that's in the K750i--two megapixels with an autofocus and LED flash. It's great and will really make you start to take more photos. Like other dual face design phones, the camera is designed to be used while holding the phone sideways. This is great because photos are typically landscape by nature, so when the phone is held sideways the screen adapts to be in the same format as the final product.
Several example photos from the W800i are available at the end of this review.
Syncing
The W800i includes a USB cable, Bluetooth and Infrared. This means it's able to sync with about anything. Of course I prefer Bluetooth, but your milage may vary. I had no problems syncing with my Mac or PC, and as a bonus the phone automatically can act as a remote control for my Mac (talk about an impressive demo). There is an included application for file transfers if you use Windows.
Likes
My favorite feature with the W800i is the accessory that makes any pair of headphones a handsfree. With that you're free to listen to a bevy of tunes [on your headphones] and not have to fumble around when you get a call. I'm tired of music phones that force you to use the included headphones to get the best results. No matter what, included headphones are a compromise meant to work with a wide range of people.
Gripes
Besides not having a carrier deal in the US (T-Mobile, this means you!) my biggest gripe has to be the keypad. You do get used to it, but it could just be plain more responsive. Other than that I have no major problems with anything else in the phone. Not having Memory Stick Duo would be a plus, but the cards don't carry too much of a premium over SD and are available in up to 2GB. Unlike with Nokia's use of RS-MMC, the Memory Stick Duo cards can be used somewhere else (such as my digital camera) so they are available in retail stores.
Verdict
The Sony Ericsson W800i is a fantastic handset that currently tops the music phone market. It's not the perfect music phone (512MB is not a whole lot of tunes) but of the phones I have used so far it's the leader. Fundamentally the W800i is a great phone, especially well designed and feature filled. If you have the funds, seriously consider purchasing it.
Photos
Click on each thumbnail to view the full size photo.
Video
The video should have began downloading when you started loading this page. It's about 22MB so you may need to wait another minute or two for it to load. It features a demo of the music functions of the W800i and features tunes from The Killers, Minus the Bear and Head Automatica. QuickTime is required.
If video does not play, use the direct link (right-click and hit download to disk)
---