Nokia N91and E70 approved by FCC
Feb 03 2006 - 03:23 PM ET | Nokia, Rumor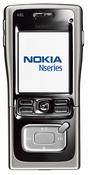 The Federal Communications Commission has approved two high-end Nokia handsets, the N91 (shown at right) and E70. The N91 is especially interesting because it includes a 4GB hard drive and would be the first phone with a hard drive to ship in the US. However, just because the handsets were approved by the US doesn't mean they will actually ship here.
Features of the N91 include:
4GB Hard drive
Music player with integrated music control keys
UMTS/WiFi/Bluetooth
2 megapixel camera
Features of the E70 include:
WiFi/Bluetooth
2 megapixel camera
QWERTY keyboard
Both handsets are S60 handsets that run Symbian.
---