Imate SmartFlip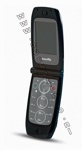 The internet rumor mill is blazing this morning with pictures released to the internet of the new iMate SmartFlip.
Details are sketchy at this point, but what we are hearing is that it will be clamshell, Windows Mobile 5.0, a camera, Bluetooth, GSM/GPRS and EDGE, microSD, no WiFi, and thinner than the RAZR. We may even see a product release in the very near future.
[originally via PocketInfo (babelfish mutilation)]
[also via Gizmodo]
UPDATE: MobileBurn has got their hands on the iMate SmartFlip at 3GSM, click over for pictures.
---