Smartphones with GPS navigation and BT speakerphone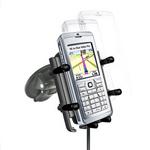 March 9, 2006 Garmin has announced a GPS cell phone navigation kit, the Garmin Mobile 20. The Mobile 20 is an automotive navigation system that delivers voice-prompted, turn-by-turn directions using a Bluetooth cradle/docking station on Nokia, Windows Mobile, and Treo 650 Smartphones.
The window mount docking station is the Garmin GPS 20SM, it has a built-in, GPS receiver and Bluetooth speakerphone. Garmin Mobile 20 will also be the first to utilize the Garmin Online wireless data services, in North America and Europe, that comes a base set of complimentary features, and additional subscribers services such as; real-time traffic, gas prices, safety cameras, weather information, as well as additional location based content. The Mobile 20 also has SMS built in that lets end users send their position or interesting location information to any other phone via text messaging.
The Garmin Mobile 20 will start shipping in July. "The European package will include Garmin Mobile 20, GPS 20SM, and a preloaded regional data card. The North American package will include Garmin Mobile 20, GPS 20SM, and maps of the United States, Canada and Puerto Rico preloaded on a 1 GB data card".
[For more information visit Garmin]
---