Samsung gets virtual screen patent
Apr 16 2006 - 12:05 PM ET | Samsung
Samsung was awarded a patent for technology to power a virtual screen. The illustration given in the patent application shows a mobile phone standing on end projecting a user interface on the ground. An electronic pen is then used to manipulate that interface. It looks similar to the I-Tech's virtual keyboard technology.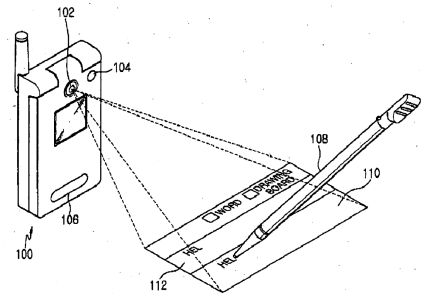 Disclosed is a device and method for inputting characters or drawings on a mobile terminal using a virtual screen. To input characters or drawings through a virtual screen, the mobile terminal includes an electronic pen, a virtual screen generator, a position detector for detecting the electronic pen position, and a character recognition algorithm for recognizing a trail as a character.
The patent was filed in 2004. No word on if this tech will actually make it into a shipping product.
[via Engadget Mobile]
---