Sprint launches free mobile email app
Dec 01 2006 - 06:34 PM ET | Sprint Nextel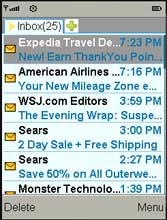 Sprint Nextel teamed up with mobile email provider SEVEN to launch Sprint Mobile Email. The free download lets users access popular webmail services (AOL, Yahoo, etc) as well as conventional POP/IMAP accounts.
Sprint Mobile Email was designed to work well with multiple accounts, each account gets its own tab. It also can simulate push email (emails arrive on demand like text messages) through the use of SMS. Text messaging fees apply to this feature though.
The application is currently compatible with a limited set of Sprint and Nextel handsets, but increased compatibility is expected soon. It's free, but data rates do apply.
---