Sanyo SCP-7000 launches on Sprint
Dec 03 2006 - 05:10 PM ET | Sanyo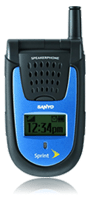 Sprint Nextel has launched the Sanyo SCP-7000, a minor twist on the existing SCP-2400. The 7000 is essentially a ruggedized version of the 2400 that also includes user changeable faceplates. Both phones are entry-level and concentrate on the basics. Sprint also launched another Sayno handset today, the M1. It's a high-end music phone.
Features of the Sanyo SCP-2400 include:
Dura-Grip anti-slip coating on outside of handset
Push-to-talk (ReadyLink)
Speakerphone
128×160 pixel screen with 65k colors
Optional parental controls
Sprint is selling the SCP-7000 for $29.99 with a new 2-year contract and $150 in instant savings. The SCP-2400 is still available and is now being priced at $19.99.
---