Motorola's Harley-Davidson Phones
Apr 11 2003 - 12:06 PM ET | Motorola, Unique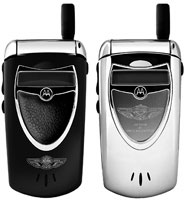 Motorola
announced
today that it will be selling two versions of its popular V60i phones decked out Harley style:
"Based upon one of the most popular mobile phone models in North America, the phones are available in black with leather or chrome on chrome and are engraved with the Harley-Davidson 100th Anniversary logo. The mobile phones will be sold initially at participating Harley-Davidson dealerships across the country."
If you want to find a participating dealer or just see this thing up and close check out
JourneyMoto.com
.
---