The Man Behind Sony Ericsson Clicker
MobileTracker's Jon Gales recently got a chance to ask Jonas Salling of Salling Software a few questions. If you aren't familiar with Salling Software, they make Sony Ericsson Clicker. It turns Sony Ericsson Bluetooth capable phones into remote controls for Macs--a quite remarkable application.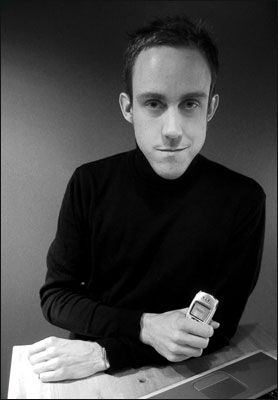 MT:
What phone do you use full time? Is there another phone in your sights? Also, what kind of Bluetooth connection/adapter do you have?
JS:
I use an old worn-out
T68i
. Endless hours of testing Sony Ericsson Clicker seem to have finally taken their toll on the joystick, so I plan to get my hands on the brand new
T610
(which, by the way, is compatible with Sony Ericsson Clicker) as soon as it hits the stores. For Bluetooth, I primarily use a
DLink adapter
, but keep an old TDK adapter around for backup and testing purposes.
MT:
Since Sony Ericsson Clicker was such a hit do you have plans to either rename or write another package for other Bluetooth phones? Nokia is coming out with a few Bluetooth equipped phones and they are marketing them to death (especially the 3650).
JS:
The Sony Ericsson phones have really nice support for many of the things I want to do with Clicker. It is much more difficult to get this stuff to work in a really user-friendly way on other mobile platforms. I need to pick my battles carefully, and not spend much time going down roads that may not lead to results quite quickly.
MT:
Did you get into programing for Sony Ericsson phones or is that just what you have decided to post on Salling.com? How long have you been writing for the Mac?
JS:
Actually, I started programming back in the early eighties. I've been writing for the Mac on and off for quite some time. I believe I wrote my first real Macintosh application about 8 years ago; it was an application to make the process of building crosswords semi-automatic; I think it may still be in use, in which case its output would be published in some Swedish newspapers. With Mac OS X, I decided it was time to "come home". Writing software for OS X is pure bliss.
MT:
What would be the coolest thing for you as the programmer to see Sony Ericsson Clicker used for? Example: MacWorld Keynote, Special Forces, the next James Bond...
JS:
Sony Ericsson Clicker at a MacWorld Keynote would be quite cool of course. I don't think I would think twice about donating a copy if Steve asked nicely. The greatest kick, however, is getting emails from people who are using Sony Ericsson Clicker in ways I
never
would have thought of. That's the beauty of scriptable applications; it puts so much power in user's hands, and a lot of times I find that they are much smarter than I am.
MT:
Maybe I'm a little too geeky but I'd really love to be able to see my screen via Sony Ericsson Clicker. Is this in the works? Is it even possible?
JS:
Now you see what I was just talking about... This is the kind of stuff Sony Ericsson Clicker is all about: extending the Macintosh experience into your mobile phone and letting you have fun doing it. Unfortunately, it's a little too early for me to announce what features may or may not be in the next version. So, it's "no further comments" on this one.
MT:
Keeping with the new feature theme, have you thought of things like audio streaming to the phone from the Mac? For instance via my hands free unit I could hear any audio from the Mac (CD, Mail.app alerts, etc). This could be handy for a variety of situations.
JS:
This is a good idea. Again, I'm afraid I cannot comment on what may or may not come from Salling Software in the future.
MT:
Anything on your mind (hint: shameless plug goes here).
JS:
Those who have not yet seen Clicker in action may find the video capture (available at
Salling.com
) useful in getting an idea of what Clicker can do. Everything you see in the video was created by a user (Jakob Peterhänsel), so it should give you an idea of what can be done with Clicker.
---