Sony Ericsson pumps two more clamshells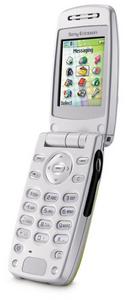 Sony Ericsson announced two new higher-end phones at an event in Paris (yes, a third phone was announced but it does not meet MobileTracker's tough standard). Both are tri-band GMS and sport the clamshell form factor:
Z600:
Camera phone with a focus on ease of customization. It's got a faceplate system called "Style-Up" and allows easy transfer of pictures with what Sony Ericsson is calling QuickShare. This is the phone pictured at right (to zoom just click on it). Basically it's corporate hype. However, it has a nice list of features: * 65,000-color screen * Bluetooth * iSync (MacOS X) and Outlook (Windows) sync * voice control * 32-chord polyphonic ringtones.
Z200
: Not quite as high-end as the Z600, but the Z200 still focuses on ease. Its also got more chords for ringtones, although we've never thought that 32 was lacking. Here's the scoop on the Z200: * 4096-color screen * Style-Up changeable covers * 40-chord polyphonic ringtones
---