N-Gage ships tomorrow, Nokia hopeful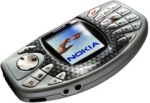 Nokia's highly-marketed-and-little-liked N-Gage gaming/cell gadget is going to officially be shipping tomorrow. Few people should be unaware of the N-Gage within a few weeks thanks to Nokia's $100 million marketing campaign dedicated solely to the N-Gage. The company also
announced today
that it expects to ship several
million
units during 2004, which seems amazingly high at best. Hopefully the accountants at Nokia aren't counting on the hype to balance the books.
Almost
every
review
of
the device has been negative (
but not all
). From the $299 price tag, to having to stick to games made specially for the device to a poor design. Bad news just keeps rolling in. But, by the way Nokia is talking, you'd guess that everyone
loves
the device. With that being said, we can't make a call on it until we've seen the device.
---