Nokia 6600 reviews come in
Nov 21 2003 - 03:51 PM ET | Review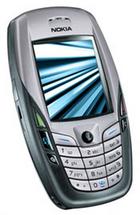 The power-packed business user aimed Nokia 6600 has hit store shelves and the reviews have started to come in. MobileBurn and InfoSync have both posted their thoughts on the Series 60 Symbian powered device. bq.
"What's small, chubby and the most powerful Series 60 smartphone to date? The new Nokia 6600 "
-
InfoSync
bq.
"The 6600's 65k color display is the single most compelling aspect of the device. It is everything a display should be: bright, colorful, and easy to view in all conditions. It really is top notch."
-
MobileBurn
Both reviews are pretty positive, but share some common negatives such as a poor joy stick.
---