Nokia to tout N-Gage at Sugar Bowl
Dec 27 2003 - 05:26 PM ET | Nokia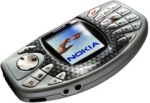 Nokia is spending more money advertising the N-Gage--the Washington Post is
reporting
that the Nokia Sugar Bowl will be quite N-Gage-centric: bq.
" Nokia is attempting to make sure that the 72,000 fans watching the Oklahoma-Louisiana State game live and the millions watching the telecast at home can't miss N-Gage by positioning balloon blow-ups of the product behind both end zones at the Louisiana Superdome in New Orleans. The day before the game, Nokia is staging an N-Gage Challenge in the French Quarter."
It was announced before the launch of the N-Gage, that the promo budget was a cool $100 million.
---