Nokia N-Gage QD review [exclusive]
You can purchase the Nokia N-Gage QD from Amazon.com for $199.99. Amazon is currently (last updated 10/11/04) giving $250 in rebates making the final price -$50.01. That's right, you get money back.
By Jon Gales -- Back when the original N-Gage debuted, making fun of it was almost a sport. There were so many knocks on the N-Gage, that it was amazing to mobile industry buffs that the device ever made it out of the board room let alone with a $100 million marketing campaign. But instead of caving to all the negative press, Nokia took the hint and worked the major kinks out of the N-Gage. What we have now is a classic talking slightly smaller and much cheaper N-Gage QD. Join me for MobileTracker's exclusive review of the Nokia N-Gage QD.
Nokia N-Gage QD

Mode

GSM 800 / GSM 1900

Size

4.65" x 2.68" x 0.87"

Weight

5.04 oz (143g)

Antenna

Internal

Battery/Life

LiIon - Talk 3.5 hours - Standby 240 hours - Gaming 5+ hours

Screen

4096 colors - 176x208 pixels

Ring tones

Polyphonic

Web

XHTML

Syncing

Bluetooth

Apps

Java

J2ME

Memory

MMC slot for up to 256MB expanded memory

Misc

Gaming device, Symbian OS
Overview
Before we get started I should mention that this phone is cheap--just $199 US without contract. You can get it for $99 or less if you sign up for T-Mobile service, making it even more affordable. For $199 or less you get a Symbian powered smartphone with Bluetooth and expandable memory. It's the best deal out there right now considering you're going to be looking at paying at least $400 for a handset with similar features without a carrier subsidy. Inside the box is a dummy SIM card so that you can play games without actually having service. This is a nice plus (one that the original N-Gage did not have), but I just popped in my T-Mobile SIM card so I could use all the features. My unit also came with Tony Hawk Pro Skater and a handsfree unit that doubled as headphones for gaming.
Reception / Battery life
Nokia makes pretty decent handsets, and the N-Gage QD performed well with voice quality. I did not have any dropped calls and had full bars around town most of the time. In a friend's house that is known to be a network dark spot for T-Mobile, there was 1 bar, which is better than any other phone I have tested there. The speaker phone performs well, though I am not a huge speaker phone fan so it didn't get used too much. The volume is decent, not the loudest I have heard but not the softest. Battery life was pretty decent. Gaming sucks down the juice, but under normal use you can expect to recharge about twice a week.
Screen
The screen on the N-Gage QD has only 4,096 colors, but it uses them well. The 176x208 screen has lots of space, and is plenty bright. Performance outside was acceptable. When the display is in sleep mode and displays the clock, too much space is wasted for the full date which makes the actual time really small. It goes as far as adding on 2004 to the date as if I don't know what year it is.
Gaming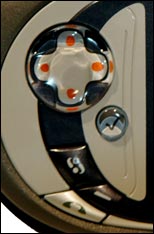 The included Tony Hawk game was the only one that I tried and it felt almost exactly like its bigger brother that I have played on various consoles. The graphics were much better than what you can find on a Game Boy, the most popular mobile gaming device. Reviews of some of the other N-Gage titles are mixed, but it's nice that all the games work for either the N-Gage or the N-Gage QD. I was a little taken aback that the N-Gage QD lacked built in games. Almost every cell phone has at least a few built-in games, but this cell phone / gaming device doesn't? Odd. I am assuming that anything they could have installed would have been poor compared to the games marketed for the N-Gage platform, but it would be nice to have a few quickies for after Tony Hawk is beaten. Since the N-Gage QD has Java, you are free to install all the Java games you want. So this isn't a huge knock, I just thought it was strange.
Applications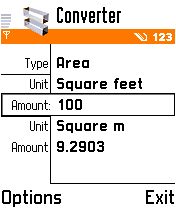 Since the N-Gage QD is a Symbian 6 device, there are
tons
of applications you can install. The included apps are pretty decent, I enjoyed the pure geek factor of screenshot application (which is how you are seeing the menus in this review). The converter was nice too since it can be tricky to remember conversion values. I installed a popular freeware Symbian app called Agile Messenger. It lets you hop on any of the big IM networks. Very neat and was something that I got a lot of use out of. If you do much web browsing do yourself a favor and go download and install Opera--it spanks Nokia's browser all over the place. But since it takes up a fair amount of space, put it on an external memory card (keep reading for why, if you fill up your device too much you will run into problems).
Keyboard
Since the N-Gage QD is both a cell phone and a gaming device, the design of the keyboard is a little different than that of a conventional phone. The keys are all of to the right hand side, which makes it great for games. But having everything off to the side makes it a little tricky to type out text messages and emails. I found that I typed the fastest by using both hands, but using this method my left hand obstructed the screen (had to rely on T9 to get me through). I can imagine this would be even more awkward for someone who is left handed. I don't know what could have been done to improve typing while not harming the game play side of things. It's a compromise. The buttons have a nice click to them and I found most pretty easy to hit but a few times I accidently hit one of the menu buttons instead of the talk or send buttons because they are so close.
Construction / Design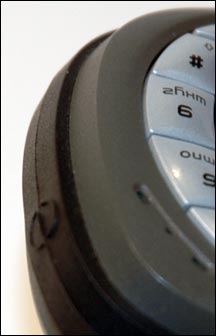 Overall the unit is solid and appears to be well made. There is a piece of rubber along the outside edge that I assume is there for grip/shock protection. It's a nice addition except that rubber catches easily inside pockets, so it's hard to take out quickly. But if the rubber keeps you from dropping the unit a few times it is well worth it in my book. As you can see in the photo to the right, the power button is embedded in this rubber ring. While it took a few minutes to find at first, I think it's a pretty good location for the button. It's hard to turn off accidently but easy to press. The MMC card slot is on the bottom center of the device, and the cards can now be hot swapped. This is a big deal, the original N-Gage needed to be shut down before cards could be changed. The manual notes that you should still unmount a card (press the power button once, hit unmount) before removing it. No more side talking! It can still be a little confusing though, a friend asked me, "Where do I talk into it?" Because it's a non-standard looking device (for a cell phone at least), people's natural instincts don't apply. The side of the device with the numbers goes to your ear, 4-way keypad towards your mouth. The charger and hands free unit both plug into the top of the unit. I really wish that the I could have hooked my own headphones into the phone instead of the cheesy handsfree ones. So instead of headphones I usually played in silent.
Bluetooth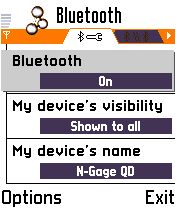 Within a few minutes I was able to use the N-Gage QD to get internet access on my PowerBook. It was a fairly simple operation, much easier than configuring a Sony Ericsson T6XX series. A few seconds later and I was sending my computer's address book to the unit, and once it was all loaded I was surprised to see that my contacts had their icons. Apple's Address Book saves a contact's AIM buddy icon (if they have one) and it sent them to the N-Gage QD. It was quite impressive to see. Picture and file transfer worked flawlessly, I was able to send over screen shots from the phone, send applications from the computer and load up a few pictures of friends. Since the N-Gage QD doesn't have a camera, this is easiest way to get pictures onto it. I was not able to test multi-player functions as I was limited to one test unit.
Problems / Bugs
About a week after I had the N-Gage QD I stumbled onto what just may be the largest bug I have ever seen on a mobile phone--WSOD (White Screen Of Death). I installed a few applications, and evidently the C drive (no relation to Windows, they just use the same terms) got too full. Once this happens the phone cannot be turned on, the screen displays all white. To turn it off you need to pop the battery. According to all reports I found from forum posters the only way to fix this is to send the phone to a Nokia support center where they flash the contents of the memory. However, I let the N-Gage QD sit without a battery for an hour or two and it was fine after that. The big problem as I see it is there was no warning. If it really messes up the phone it should either tell you that you're about ready to screw things up or not let you. If you want to install apps on your N-Gage, go get a MMC card and put them on it instead of your built in memory. Otherwise you will run into the WSOD. The good news is MMC cards are cheap, $20-$50 for a good size card.
Data
Once I had all the data settings right, everything worked without struggle. There is some software installed by default called N-Gage Arena that lets you play games online, but at least with Tony Hawk it is not that impressive. You can post high scores and there were some nice videos showing where objects were (sort of like cheating but not really). It also said an update was available, so I downloaded it, but there was no word to say what had changed. The included XHTML browser worked fine, but it isn't as polished as Opera (does not come with phone, it costs extra). On most sites the amount of side scrolling made web browsing pretty painful. Email worked fine, as did text messaging. Besides being a little awkward to type all of the data features worked well. I got an odd call from Nokia saying that I was using my N-Gage QD on T-Mobile and it did not have the most up to date T-Mobile software. He said I wouldn't be able to get onto the internet until I got this new software, but that wasn't the case--I got the internet to work in about 4 minutes. Since he wanted to send out a new phone, I assumed that it would either be T-Mobile branded/locked and since I was already online I did not accept it.
Ringtones
Would have been nice to have had MP3 ringtones, but the N-Gage QD only does polyphonic. The tones were default Nokia but with Bluetooth it's not hard to change this. Thankfully the QD does not have its Bluetooth crippled like the Motorola V710 (evidently T-Mobile and Cingular aren't quite as data greedy as Verizon Wireless).
Final verdict
I really enjoyed my time with the N-Gage QD, even though I am not a real gamer. Having the ability to install a host of applications written for the Symbian platform was a real appeal to my geeky side. Having Bluetooth is a must, and the Bluetooth of this device excells. If only they could build in a warning when you start to fill up the memory. I am quite tempted to keep this little baby around just so I can have a Symbian device to test apps out with. If I kept it I don't know if I would buy any of the games, I would probably just tinker around with Symbian stuff. And since it only costs $200 without a contract it's a perfect second phone for people who just want to be able to see what all the smartphone fuss is about.
Here are a few more pictures of the N-Gage QD:
*
Comparison
*
All the parts
*
Back
---