Sony Ericsson P910i review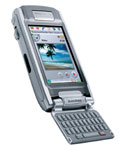 By Jon Gales -- The Sony Ericsson P910i is currently the top of the line phone from Sony Ericsson, but it's not available from any carriers in the US. I got ahold of an unlocked model that worked without problems after putting in a T-Mobile USA SIM card.
The P910i is a phone for business users not concerned with price, remember this as you read the review. Read on for the full piece, including a short video review that highlights some of the P910i's major features.
By the numbers
| | |
| --- | --- |
| Size | 4.53" x 2.28" x 1.02" |
| Weight | 5.47 oz |
| Display | 208 x 320 pixel 262K color TFT screen |
| Memory | 64MB built in, expandable via Memory Stick Duo (32MB card included) |
| Email | POP3, IMAP4 email |
| Other | Bluetooth, speakerphone, hand writing recognition, MP3 ringtones |
Screen
I have to start by talking about the P910i's screen first--it's beautiful. Even with the keypad flipped up the screen looks large, when it's flipped down the screen is jaw dropping. At 208 x 320 it's not too high-res, but still very bright.
Like many other high-end smart phones, the screen is touch sensitive and can be written on. I'll touch on this more in the text section.
Since the front of the P910i is nearly all screen, talking on it leaves dirt on the screen. Sony Ericsson includes a micro fiber cloth in the box to clean the screen with, but I tended to use a cloth I already have for cleaning my glasses. A few quick brushes and the screen is as good as new.
Text input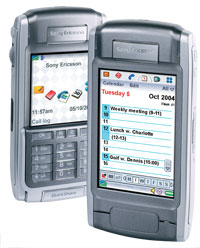 The P910i can handle text input in about any way you want to give it: writing on its screen, on screen keyboard, QWERTY, T9 or multi-tap. Since my hand writing isn't great, I usually used the flip down QWERTY keyboard. The buttons on this are very small, but after a few hours accuracy starts to pick up. It would have been nice if they were bigger, but the phone is already pretty wide. My big gripe with the keyboard is that it is not backlit. With keys that small and no backlighting, the flip-down keyboard is useless at night. So at night I switched to the on screen keyboard.
For quick correspondence (maybe a SMS reply), T9 can be used when the keyboard is flipped up. If you somehow prefer multi-tap to T9, that's also an option.
Included in the box is a small screwdriver and instructions to remove the flip down keyboard if you want to use the P910i with just the pen for text input. This would also make the phone a little thinner.
Battery life / voice quality
With a phone this complex, battery life can be an issue. Under normal use, I charged the P10i every few days. Web browsing is obviously hard on battery life since it uses both the data connection and every pixel of the display. Like the K700i, the P910i defaults to a blank screen when it's in sleep mode. There is an option to show a clock which, depending on how often you check the clock, may or may not hurt your battery life.
Voice quality was good for both in ear and speakerphone modes. It wasn't the best that I have used, but Sony Ericsson has cleaned up their act since the T68/T610 RF troubles.
Camera
For a business class phone in this price range (MSRP of around $1000 US), I'm not sure why they included a VGA camera. Most business users don't care about having a camera in the first place, but those that do will be disappointed by the absolutely poor quality of the P910i's photos. Don't buy this phone for its photo abilities. Video works marginally better, mostly because there is plenty of memory to write video to.
Video
The built in video player can read MPEG-4 files so I encoded an episode of Family Guy into MPEG-4 and was able to watch the entire episode off the P910i. It was about 30MB which filled the included 32MB Memory Stick Duo card. I'd rather have SD as the memory card, but this is a Sony product and you just have to expect some Sony technology. The video player works quite well and with a memory card upgrade it could handle feature films.
Syncing
The P910i is made to sync: it comes with a syncing cradle and Bluetooth. Since I have a Mac, I used Bluetooth and was able to sync up my contacts and calendar without any additional software on my computer. It imported full address book data (including mailing address) and even the photos I had assigned to my contacts.
The USB syncing cradle is made for Windows and includes all necessary software.
Interface
The UIQ interface is easy to understand, especially for users coming from other Symbian based phones. When the flip down keyboard is opened the screen becomes touch sensitive and any option can be pressed with the stylus. You can also access the same options via the scroll wheel which also has three click positions (see video).
Verdict
After a few weeks of use, I really grew fond of the P910i. It's a little wider than I would have liked, but the large screen helps make up for that. Having the scroll wheel on the side is a big plus, because I'm not a big fan of needing to use a stylus all the time. The construction is solid, even the flip down keyboard.
Though the P910i doesn't ship with Opera, downloading it is a must. Opera really makes mobile web browsing fun. Opera is free for UIQ devices, so there's no reason not to install it.
If you're looking for a non-Palm based smartphone for advanced use, seriously consider the Sony Ericsson P910i. It's a winner. Remember that if you're in the US, T-Mobile USA
Purchase
The review unit was provided by our friends at CollierBing.com. They are selling the P910i for $619.99. MobileTracker readers may use the coupon code 'CollierBing.com' to get $25 off.
Gallery
Click on each thumbnail below to view full size. Video needs QuickTime to play.
---