Phone thief found in photos
Aug 29 2005 - 01:27 PM ET |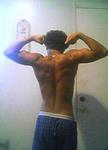 A mobile phone thief was spotted via pictures he took with the phone he stole, according to an interesting article at Wired News. The phone, a Sanyo 5500 with Sprint service, automatically stores photos online when they are emailed. The owner of the phone logged into the website and saw dozens of photos (and some movies) of the thief in various compromising poses.
Police were amused at the photos but so far the man has not been caught.
The owner of the phone sent a message to the pictured man:
"Like to steal cell phones and use them to take pics of yourself and make videos.... HA! [G]uess what pal ... [I] have every pic you took and the videos. I will be plastering the town with pics of your face."
---