Nokia 6682 launched by Cingular
Sep 13 2005 - 08:45 AM ET | Cingular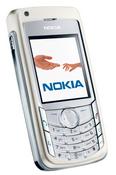 Cingular Wireless has finally launched the Nokia 6682. It had been coming "any day now" for about a month. The 6682 is Nokia's flagship smartphone product for America.
Features include:
1.3 megapixel camera with flash
Symbian Series 60
Bluetooth
Microsoft Office document viewer ( .doc, .xls and .ppt)
Cingular is selling the Nokia 6682 for $299 with contract. Interestingly, a Nokia representative noted to MobileTracker last night that Nokia will be selling the 6682 direct without service for the same price.
---