LG Migo kidphone out on Verizon Wireless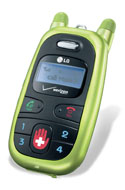 Verizon Wireless launched the LG Migo (also known as the LG VX1000), a dumbed down handset aimed at young kids. Cingular recently launched a similar handset from upstart Firefly.
Features of the LG Migo are few and far between, but that's actually the biggest feature:
4 Parent Programmable Numbers
Emergency key
No support for Voicemail, Get It Now, Web Browsing or sending and receiving text messages
The Migo is for sale for for $99.99 with contract.
---