Treo 700w to launch at CES?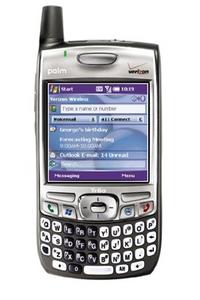 All that has been officially announced about the upcoming Windows Mobile Treo's launch is that it will be soon and exclusively from Verizon Wireless. Technically not even a name has been announced, but it has been called the 700w in rumors since shortly before its debut in September.
A forum poster at HowardForums claims to work for Verizon Wireless and has photos of marketing materials that show a launch date of January 5th which coincide swith Consumer Electronics Show (CES). Verizon Wireless is already expected to launch the next version of V Cast at the show, adding in music downloads to the existing streaming content.
The Treo 700w sports the following:
Windows Mobile 5.0
Exchange ActiveSync
EV-DO high-speed data
Bluetooth
64MB memory plus SD card slot
The forum poster also cited pricing and says Verizon Wireless will be selling the 700w for $499 with a 2-year contract.
[via Engadget]
---