RIM unveils workaround for Blackberry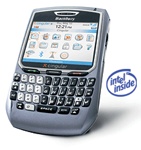 RIM, which is based in Waterloo, Ontario, unveiled a plan that will allow Blackberry device to continue functioning if a court ordered injunction is imposed later this month. The company says it has developed and tested a software workaround design for all Blackberry's operating in the U.S..
"RIM's workaround provides a contingency for our customers and partners and a counterbalance to NTP's threats," said RIM co-chief executive Jim Balsillie..
RIM has obtained a legal opinions from a patent and workaround expert so that it's new software design does not infringe on any of NTP's patents. The company plans to begin shipping new Blackberry's with the software installed in a dormant mode, and expects to offer it to current customers in the near future at www.blackberry.com/workaround. RIM says that "the new system will deliver the same functions and performance" as it's existing system.
[via Reuters]
Update: Apparently the software update RIM has prepared is called "Multi-Mode Edition". This update is user installed, but should allow seamless use of the Blackberry and all of it's features should a court imposed shutdown occur.
Update 2: We've posted another article further detailing the BlackBerry workaround.
---