KTFT-EV-K100, 7.9mm thin candybar handset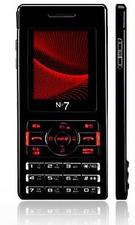 While it's not headed stateside, the KTFT EV-K100 is still worth a look for its extremely thin figure--just 7.9mm thick. It almost makes the Motorola RAZR V3 (14mm) clunky. To put the numbers in perspective, 7.9mm is almost exactly 1mm thicker than the iPod nano.
The South Korean handset manages to pack in a decent feature set for its size:
1.3 megapixel camera
MP3 player
1.8" screen
165MB memory
Weight of just 60g
LG just announced a planned acquisition KTFT, so it's possible the engineering behind this handset will be able to have an effect on some more mainstream phones.
[via MobileBurn]
---