Samsung t509, super thin candybar
Apr 05 2006 - 12:47 PM ET | CTIA, Samsung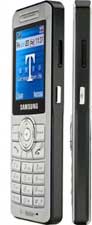 CTIA 2006 -- Samsung introduced its answer to Motorola's slim SLVR by announcing the t509. At just 9.8mm thick, the t509 qualifies as the thinnest handset for the US market. It's not as thin as the EV-K100 in Korea (7.9mm), but it makes the RAZR (14mm) and SLVR (11mm) seem chunky.
Features of the Samsung t509 include:
Bluetooth
EDGE high-speed data
262K color screen
VGA camera
We expect the t509 to debut on T-Mobile USA around May.
---