Samsung t509 launched by T-Mobile USA
May 01 2006 - 05:04 PM ET | T-Mobile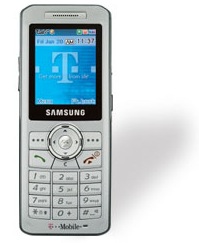 T-Mobile USA has started shipping the Samsung t509, a super-thin candybar style handset. The t509 is the thinnest handset shipping in the US, slightly beating both the Motorola RAZR and SLVR handset. While it does have a sleek profile, the t509 isn't a high-end phone. T-Mobile will be launching some other Samsung phones later in the year that pack in more high-end features, such as WiFi.
Features of the Samsung t509 include:
GSM

850/1800/1900 plus

EDGE

Bluetooth

VGA

camera
Just .4" thick with a weight of 2.7oz
Speakerphone
After activation and rebates, T-Mobile is selling the t509 for just $49.99. It's currently exclusive to T-Mobile. MobileTracker will have a review of the handset shortly.
---