Motorola i580 announced, iDEN handset
Apr 04 2006 - 05:01 PM ET | CTIA, Motorola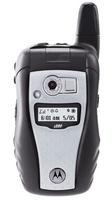 CTIA 2006 -- Motorola announced a new iDEN handset this afternoon, the i580. iDEN is the network technology that Nextel currently uses, but will be switching from as it furthers integration with Sprint. The i580 is built to take a tumble and conforms to "strict military specifications for blowing rain, dust, shock and vibration."
Features of the Motorola i580 include:
Bluetooth
1.3 megapixel camera
Push-to-talk
The i580 will be available in Q2 of this year. No word on if Nextel will pick this handset up.
---