Disney unveils MVNO plans, parents the target
Apr 05 2006 - 01:09 PM ET | CTIA, MVNO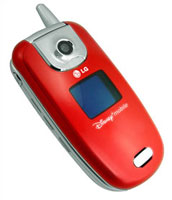 CTIA 2006 -- Disney finally unveiled its plans for Disney Mobile, a Mobile Virtual Network Operator (MVNO) that will market itself towards parents that want to keep better track of their kids. Unlike some other kid-targeted handsets that focus on very basic handsets that have limited calling features (like the FireFly), Disney Mobile is aimed at children ages 10-15. More specifically the service is targeted to their parents, with complete parental controls for such things as spending limits and what times/days the phone can be used. GPS tracking is even included.
Two handsets will be available at launch, one each from LG (right) and Pantech. They will cost $59.99 at retail, though other pricing information has not been announced. Disney Mobile is slated to begin service this Summer, but you can register now for updates and the chance to win a free year of service.
Read on for more information about the LG DM-L200.
Features of the LG DM-L200 include:
262K color

TFT,

128 × 160 pixels
1.3 Megapixel Camera/Camcorder with Flash
Bluetooth
---