Tiny Pantech C300 launches as Cingular Go Phone
May 31 2006 - 05:41 PM ET | Cingular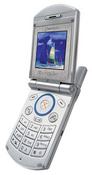 Cingular today announced the Pantech C300 as a pre-paid handset for their Go Phone branded service. The C300 is the first Pantech handset picked up by Cingular and is a possible hint at further additions in the future.
Features of the Pantech C300 include:
Tiny design, just 2.72×1.69x.76"

VGA

camera

MP3

ring tones
Cingular is selling the C300 for $119.99. Since it's a pre-paid only device, that price does not require a service contract. Also new for Cingular is the addition of data access for customers that choose to use one of the no-contract monthly service plans. Prior to today only post-paid customers could access MEdia Net services.
---