Nokia 6215i launches on Verizon Wireless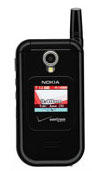 Verizon Wireless has launched the Nokia 6215i. Despite the Nokia branding, the 6215i is actually made by Pantech and originally went by the moniker PN-315. Nokia's CDMA strategy has been up in the air after Nokia called off a proposed partnership with Sanyo. Nokia has a contract with Pantech to brand two handsets, the 6215i and the 6315i. Nokia's new CEO is committed to succeeding in the US market, but without a serious CDMA play the company can't reach half of the country.
Features of the Nokia 6215i are fairly basic:
VGA

camera
Speakerphone
Voice-activated dialing
Verizon Wireless is selling the 6215i for $49.99 with a 2-year service contract ($99 with a 1-year contract).
---