Sanyo Katana for Sprint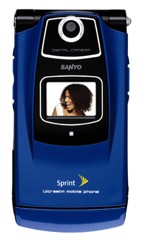 Sprint is showing off the Sanyo Katana, a high-profile handset that is set to launch on July 10th. Like recent models from other companies (RAZR, FUSIC, V, etc) , that Katana eschews arcane model numbers and uses a more iconic name. The Katana is thin clamshell that will compete with the Samsung A900 for style conscience buyers. The main drawback is that the Katana doesn't have EV-DO like the A900 does.
Features of the Sanyo Katana include:
Dimensions: 3.9" x 2.0" x 0.6" Weight: 3.5 ounces
Bluetooth (DUN supported)

QVGA

display with 65K colors
Speakerphone
Wireless backup

VGA

camera
The Katana comes in Mystic Black, Blue Sapphire, Cherry Blossom Pink and Polar White. Look for it July 10th at $129.99 with a 2-year service contract.

---