2GB microSD card shipping from SanDisk
Jul 31 2006 - 09:43 AM ET | Backpage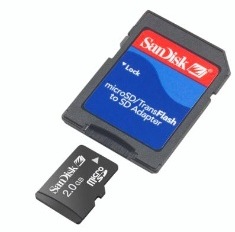 SanDisk has started shipping a 2GB microSD card. Both 1 and 2GB versions were announced earlier this year at CES. microSD (formally known as TransFlash) has become one of the leading formats for mobile phones. Almost a third of phones sold worldwide this year are expected to have removable memory.
The 2GB launch was timed to go along with the Chocolate's debut on Verizon Wireless. Verizon's retail stores across the country will be stocking the 2GB chip for $99.
The microSD uses the latest advancements in flash memory technology to deliver the smallest memory card in the world. Measuring about one-fourth the size of a standard SD card, the fingernail-size microSD card provides high-performance and expanded memory capacity for mobile phones using SanDisk's TransFlash card slot or any new devices that are marked as microSD slots.
---