BlackBerry 8100 leaks, multimedia features included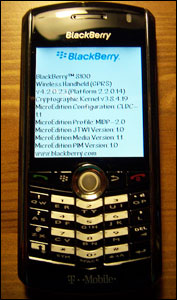 Photos of a T-Mobile branded BlackBerry 8100 have found there way onto several websites. The photos confirm Research In Motion's move into multimedia is coming soon. The 8100 is not your conventional BlackBerry, there's even a camera.
Known features of the BlackBerry 8100 include:
EDGE

high-speed data
Bluetooth
microSD card slot
Camera (resolution unknown)
Support for various multimedia; including photos, music, video and ringtones.
While the pictured 8100 is obviously heading to T-Mobile, we'd expect to see a variant pop up on Cingular as well.
Shipment dates are still unknown (since the device hasn't been announced), but we've heard before the holidays.
---