Samsung t719 coming soon to T-Mobile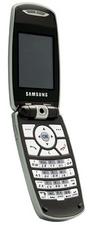 Not waiting to be scooped by rumor sites, T-Mobile has posted a coming soon message for the Samsung t719. The t719 was one of the most unique handsets shown off at CTIA thanks to its hybrid-QWERTY keyboard inside of a fairly typical clamshell design. Samsung licensed the keyboard and email software from Research In Motion (BlackBerry).
Features of the Samsung t719 include:
SureType

QWERTY

keyboard (2 letters per key with predictive text software)
1.3 megapixel camera
Bluetooth
Voice activated dialing
T-Mobile should officially launch the t719 soon. We'll let you know when it happens. Pricing was not announced.
[via EngadgetMobile]
---