Samsung t719, BlackBerry email with SureType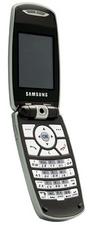 CTIA 2006 -- Possibly the most interesting new handset shown off so far at CTIA is the Samsung t719. At first glance it looks like a normal clamshell, but when you open the handset you'll see a hybrid QWERTY keyboard that is licensed from Research In Motion (BlackBerry maker). It's the first BlackBerry Connect device in a clamshell formfactor.
Features of the t719 include:
BlackBerry Connect
Bluetooth
SureType predictive text
Megapixel camera
T-Mobile is expected to launch the t719 in Q3.
---