Samsung SGH-I320 slim-line Koreanberry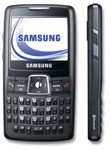 Today Samsung entered the hunt for the Blackberry by releasing it's own Crackberry, Q, Frankenberry rendition, the SGH-I320. The details are slim at this point, but Samsung says the phone is slimmer then a Motorola Q, and is a featherweight at 95 grams.
Feature for the SGH-I320 as know at presstime:
QWERTY keyboard
95 grams.
Landscape QVGA screen
Bluetooth
MicroSD slot
1.3 megapixel camera
According to PhoneScoop "the I320 will run Windows Mobile 5 including the push email update"... this is probably one of the phones Microsoft alluded to in it's Press Release.
---