Nokia E61 shipping in mid February?
Feb 08 2006 - 04:02 PM ET | Nokia, PDA Phone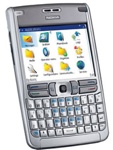 The buzz on the net is that MobileBee is showing that the new Nokia E61 will be shipping February 15th. Upon calling MobileBee in New York for confirmation, MobileTracker was told that the phone was expected around that time and that if it is released by the manufacturer (Nokia) that day, then they will have them in stock a day or two later at the earliest.
The Nokia E61, aka the Nokiaberry, is Nokia's response to the Blackberry and Motorola's Q. The Nokia E series phones are designed to address the needs of business users, other E series phones included the E70, E60, and the E61.
Key features of the E61:
WCDMA 2100 / GSM 850/900/1800/1900 MHz
GPRS, EDGE, HSCSD, Wi-Fi
Symbian operating system OS 9.1
Bluetooth connectivity
16 million color screen
multiple email clients, SMS, MMS, Email
75 MB of internal memory
WAP 2.0 browser
Organizer
miniSD slot
[via MobileBee]
---