UT Starcom Slice launched by Virgin Mobile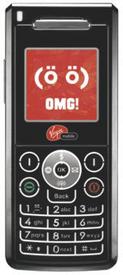 Virgin Mobile USA has started a soft launch for the UTStarcom Slice. The Slice moniker is Virgin Mobile's work, UTStarcom called the handset "PCS-1400". Like most handsets on Virgin Mobile, the Slice focuses on being affordable. But the slim handset still offers a decent feature set for the price.
Features of the UTStarcom Slice include:
Slim 10mm design, weight of just 3.4oz
128×128 color screen
32MB of internal memory
Speakerphone
The Slice is currently for sale from Circuit City for $49.99. There is no contract involved. It's not up yet on the main Virgin Mobile website.
[via EngadgetMobile]
---