MasterCard and Cingular testing PayPass mobile payments
Dec 15 2006 - 04:10 PM ET | Cingular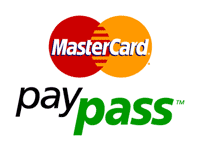 MasterCard and Cingular have kicked off a trial of mobile payment technology in New York City. MasterCard has previously worked with Nokia and Motorola on the technology which it's calling PayPass.
In this trial customers in New York are being supplied with near-field communications (NFC) enabled Nokia handsets. Special equipment is needed for merchants to be able to accept the contact-less payments. Some already enabled establishments include McDonands, AMC movie theaters and subway stations.
"Carrying a mobile phone has become almost as common as carrying a wallet," Scott McElroy, vice president of technology realization for Cingular Wireless, said in a statement. "This trial will continue to help us learn more about how NFC technologies work and how customers will want to use their phones as part of their real-world transaction process."
---