Financial impact of iPhone announcement
Jan 09 2007 - 06:34 PM ET | Apple
Even though the Apple iPhone is not scheduled to ship until June it has made a very real impact in the financial markets. The changes started just minutes after the introduction this morning by Apple's CEO Steve Jobs. Apple is the big winner and added billions of dollars to its market cap while Research In Motion was the biggest loser. RIM's loss is surprising considering that Apple is not putting the iPhone up against BlackBerry at all. Wall Street is famous for its addiction to the "CrackBerry".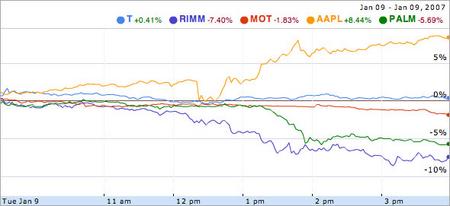 The chart above covers: Apple(AAPL), Research In Motion (RIMM), Palm (PALM), Nokia (NOKIA), Motorola (MOT), and AT&T (T). AT&T is the parent of Cingular, who scored an exclusive with the iPhone.
Click on chart to zoom.
---